Our migration service provides:

High quality "GDD-Ready" sites


Simple Pay per page based pricing

Apply design improvements

No limit on amount
of pages
Standard
0
/mo
/yr
Migration the easy way for small and simple websites without any fuzz
Premium
0
/mo
/yr
Migration of small or simple website that need a face lift
Custom
/mo
/yr
Migration of large and/or complex websites that need that special attention
Pricing
Page Types
Number of pages
unlimited
unlimited
unlimited
Features
Tailor-made HubSpot Theme
Includes HubSpot System Pages
It provides a migration of your website content and a defined set of page and system templates that closely resemble your existing website.

You will have a designated Migrations Specialist to manage the website migration and guide you through the process. The InboundLabs Migrations Team will migrate your website content and design onto the HubSpot CMS in addition to a standard set of templates, global groups, and coded files to match your external website.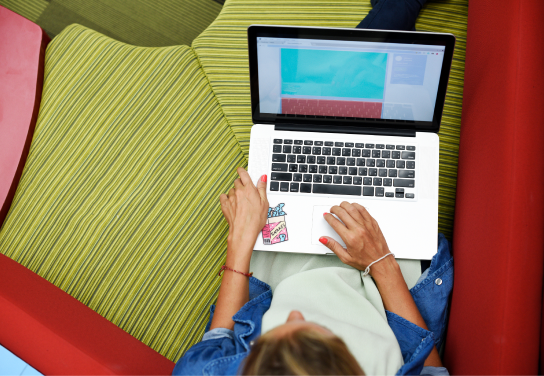 Customer Cases
Here a few happy customers that we have migrated to HubSpot.
FAQ
Where is this service available?
At this moment the page based pricing is only available in certain regions/countries. If you are interested in migrating your website and located Germany, Switzerland and Austria please contact us for more information.
What is GDD-Ready?
Growth-Driven-Design (GDD) is a methodology developed by HubSpot that represents a smarter approach to web design that eliminates all of the headaches and drives optimal results using data. GDD websites are easy to change and adapt and allow marketers to leverage data to implement month-over-month improvements that drive marketing ROI. No matter what CMS you migrate from, your new HubSpot Website will be ready for GDD.
Which pages will be migrated?
All pages that do not contain complex content types. However, all excluded pages can be migrated with our custom development services.
How do I know how many pages I need to migrate?
If you do not have a list of pages to be migrated we can either simply migrate all pages or you can use our website migration assessment service to create an inventory, prioritize pages and build a plan for all complex content types.
What content types are excluded?
In general we cannot migrate applications, server side code or complex javascript functionality. To better understand what this means please see examples of complex content types. If you want to migrate your blog, please see the blog migration service.
What is default responsiveness?
InboundLabs will do its best to retain the look and feel of your content while keeping or making it responsive. However, small changes in formatting and spacing are likely to occur due to the switch in platform. The HubSpot CMS is responsive by default, but InboundLabs may need to add minor adjustments for Desktop, Tablet, Mobile Portrait, and Mobile Landscape. You may further customize the responsive design when the migration is complete, using a contractor or your choice, your own design resources or our custom development services.
Responsive features your migrated website will have.
The site will use responsive breakpoints for tablet (768), desktop (1600) and phone (375) screens

All text will be clearly legible and adjust in size to each screen size
All buttons, CTAs and forms will work on all screen sizes
Responsive features that can be implemented additionally as custom development
Hiding or showing sections depending

Swapping images or other media
Transitions and effects
Any complex content types
Please note, that InboundLabs uses emulators to test responsiveness, and not the mobile devices themselves.
What are some examples of interface changes?
Search functionality will be replaced with the HubSpot search module.

HubSpot uses tags to categorize posts. If your current blog uses both tags and categories, both of these will be combined into tags in HubSpot.
Precise spacing, non-standard fonts, and column widths may change.
Blog layouts and functionality will be matched as close as possible within the capabilities of the HubSpot Blog tools. Some layout changes may occur.
What interface improvements can be made?
Changing Font Styles of standard elements (H1 to H6 and body styles: extra large, large, regular, small and extra small)
Updating the color palette of the site (Definition of 3 Primary, 3 Secondary and 3 Neutral colors)
Consolidation of top and bottom paddings of each section
Header and Footer update (Changing of color style and/or Layout Update )
The following is not included:
Image creation or replacing images on the site (We'll use existing images)
Updating existing animation or providing new animation
Changing the design of Advanced Modules/UX like Pricing Tables, Timelines and Sliders
What are complex content types?
We can migrate your entire web site, not just simple pages. However, the Website migration service does not migrate the following examples of content and can exclude any other content and pages at its discretion. To assess your website and decide what and how to migrate please use our migration assessment services. To migrate pages and content that has been included you can use our custom development services.
How about migrating structured data?
Structured data is a standardised way to provide information about a web page. Structured data, such as schema markup, JSON-LD, RFDa and Microdata are 'complex content' and not included in migrations.
What to do with complex content types?
If the pages with complex content types are not important you can simply avoid migrating them. The migration assessment services can help you determine this. If these pages need to be migrated you can rely on custom development services to migrate them.
How does the migration work?
You will provide a list of URLs of pages you want to migrate. We will migrate each page one by one. When we finish we will provide you with a list of pages that were not migrated because they contain complex content types. You obviously do not pay for these pages. You can then decide to migrate these pages with our custom development services or any other provider of your choice.
How do I launch the migrated site?
Our migrations team will deliver your website on HubSpot staging or as unpublished pages. You can then publish your pages or -depending on the migration option you chose - contract an additional launch or go-live service.
What can I expect during migration?
InboundLabs maintains an internal queue of migrations-to-be-completed, so an estimated (but not guaranteed) finish date will be provided for your migration job. Typically, a full website migration is completed within 15-20 working days.
Here's an overview of the process:
A Migrations Specialist will contact you about the details of your full migration.

A Migration Technician starts producing the template layouts and style. Once these are prepared, your pages will be recreated on the HubSpot CMS.
When the migration technician completes the migration, your migrations specialist will be notified and start to perform a quality check. They'll make sure all pages were migrated correctly and that things look generally as expected and the site's design is responsive.
InboundLabs notifies you via Slack (or email) when the migration is complete. If your migration is taking longer than expected, you may inquire about the status of your site by reaching out to your migrations specialist or checking the timeline in your account.
You'll review your migrated content in HubSpot. We can help you to learn more about how to review a full blog or website migration or a template setup. Just ask.
Please note, that after your migration is approved, you should not publish any changes to your live website. InboundLabs can't apply these additional changes to your HubSpot site after starting the migration. After the migration is complete, you can make any desired changes to your HubSpot-hosted site.
What can change?
When migrating websites from one CMS to another it is not cost effective and many times not desirable for the migrated site to look like a carbon copy. Additionally our migration team will also try to remove style and interface inconsistencies when possible. As a result your website will closely resemble your existing website. In many cases the migrated site will look and work slightly better than the original site. In selected cases the migration team can implement systematic design and style improvements during the migration. If you are interested in this please consider our interface refresh services. For examples of things that can change as a result of a migration please see examples of interface changes. Keep in mind that this is a standardized service, not a tailored design or redesign process. InboundLabs will match your website design as closely as possible using HubSpot default modules.
What if I have observations?
During a website migration you will have a Migrations Specialist from InboundLabs to walk you through the entire process. Any design issues with the website migration can be reported directly to the Migrations Specialist once the website is completed.
Can you Migrate a site with Multiple languages?
Yes, if all the content is on the same subdomain then it will be migrated.
Is there a limit on the amount of pages that can be migrated?
No, there is not.
Will the website be responsive?
Your website on HubSpot will be responsive to all popular screen sizes, regardless of whether or not your website was responsive to start with. So if you have been putting off updating your website to make it responsive and you are thinking about migrating your website onto HubSpot, this is an awesome perk! To better understand what responsive behavior you can expect please look at default responsiveness.
What about SEO?
The migration team will migrate the page titles, description and other settings that impact your search engine ranking. They will follow best practices and improve on-site SEO when possible. If any URLs change as a result of moving into the HubSpot platform, the InboundLabs Migrations Team will create URL mappings to preserve SEO credit of pages that need URL changes. However, our migration service is not an SEO service and we recommend hiring an SEO specialist to accompany you during the migration if needed. If you need one, please do not hesitate to ask.

Please keep in mind that every migration, including the simple change of a domain, will impact your SERPs. After a successful migration you will always see an initial drop and then a recovery to the same levels as before. Using this re-indexing of search engines to improve positioning can be a secondary goal of the migration. Address this with an SEO specialist.


What about tracking codes?
If desired, we can migrate all of your current analytics and advertising codes from the current website at not additional cost.
How will my pages perform with speed tests?
Page speed and performance is driven by multiple factors including 3rd party tracking codes complexity of the page and the performance of the CMS. The pages we implement will be built with the latest standards and optimized for performance. Without complex con tent types and 3rd party codes every pages should perform above the 70% level when test with Google Page Insights.
Will my images be optimized?
Yes, we will optimize all of your images for the desktop. To generate responsive image versions for different breakpoints please talk to us about custom development.
Does the service includes HubSpot Configuration?
We can configure your HubSpot Portal including domain and URL maps. This is not part of the standard or premium migration. Simply ask us for more information.
What CMS can you migrate from?
We can migrate your website from any CMS: Wordpress, Drupal, Typo3 and many more
What does Additional Services means?
Additional service means Go-live assistance, SEO and other agency services as part of your migration.
Is there an Assessment Fee?
We charge $500 for our initial assessment that will be credited towards your migration.
Will I have a project manager?
When migrating your website you will receive status updates via Email or Slack. If you would like to have a project manager assigned you can request one as an additional service.
Can I migrate integrations?
HubSpot has great integration capabilities. However, just like complex content types these integrations will not be migrated. You can always add them after the migration or as a separate project.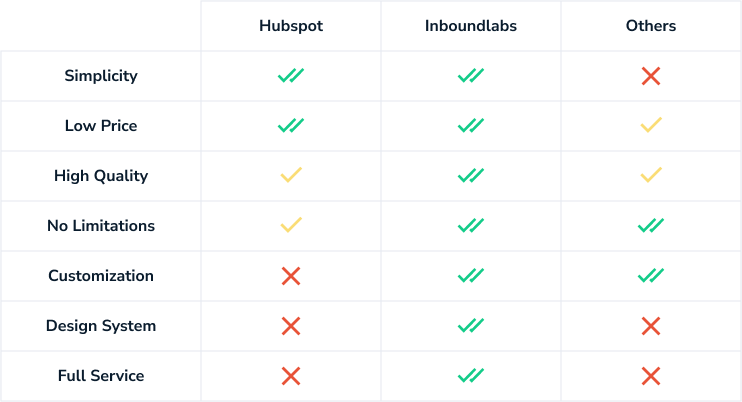 About InboundLabs Interactive
InboundLabs Interactive is a division of InboundLabs focusing on software and custom software development. The company brings strong technical expertise in Marketing, Ecommerce and Analytics technology and combines that with business re-engineering and optimization to produce seamless ROI driven business transformations.
As a new generation digital agency group, InboundLabs operates in five different countries including the US, Germany, Spain and Mexico. As a group the companies have serviced over 300 customers in 50 countries across languages and time zones. InboundLabs has 14 HubSpot certifications and while relying on a shared pool of talent, each agency brings its own market focus and expertise to its customers.
Why work with InboundLabs?
InboundLabs is a Diamond Tier, global HubSpot Partner. We are a group of full service agencies with a global footprint. This means you can rest assured that - to start - all of your HubSpot, ecommerce and website related requirements are in the best hands.
We have consultants and strategists that work in your area and time zones to make collaboration on important issues smooth and frictionless. This provides you with a convenient, single point of contact for all projects and critical decisions to get things done.
We have built a vast, diverse and talented pool of vetted consultants, strategists, designers and programmers that cover industries, geographies and business life cycles. This allows you - with your project managers and consultants - to quickly set up new, mission focused teams no matter the nature of your project.